How to formulate the Triple Action Powder Serum
A lot is written about clean beauty and solid cosmetics. Everyone is looking for the optimal definition for this claim and their product. But ultimately all boils down to the same result: transparency in raw materials and manufacturing.
And as is often the case, despite all the naturalness and transparency, one also wants there to be a spark of the unknown - something new and innovative. Whether it is the new active ingredient, which is obtained from a rare plant in a particularly sustainable manner, or the ultimate biotechnological manufacturing process that makes the product highly effective.
Many years ago, we made "Inspired by nature - realized by science" our motto and implemented it again now with a new guide formulation for a solid, clean cosmetic product. The result is The Triple Action Powder Serum & The Activator.
This formulation incorporates the extensive know-how of our technologists from the food team, solid active ingredients production and the cosmetic formulation lab.
The idea was to develop a powder cosmetic product that is easy to combine with other products, but also works as a solo component in the daily care routine. The focus should be on the active ingredients and as few additives as possible should be used. And of course, a little "unknown" should not be missing.
For the active ingredients, we have chosen Happybelle PE, MossCellTec™ No.1 and Pinolumin™. They stand for happiness & balance, and together with the warm fragrance achieve a multi-sensory forest bathing feeling.
 In a first step, we encapsulated a special, natural, cosmos-certified perfume with starch. This process has proven very successful in the food sector and is often used for flavors. In close cooperation with our in-house powder active ingredient production, we developed a sophisticated formula from the highly concentrated active ingredients and two excipients. With the combination of these ingredients, we were able to produce a fine, easily water-soluble granulate. In addition, with this manufacturing process, we achieve a homogeneous distribution of the active ingredients and the perfume within the Powder Serum.
An optional addition to the Powder Serum is The Activator, which can be used instead of tap water to dissolve the powder product in the palm of your hand. Of course, the Activator also contains an active ingredient, which is the MossCellTec™ Aloe. The two products can be used both in combination and individually.
Bild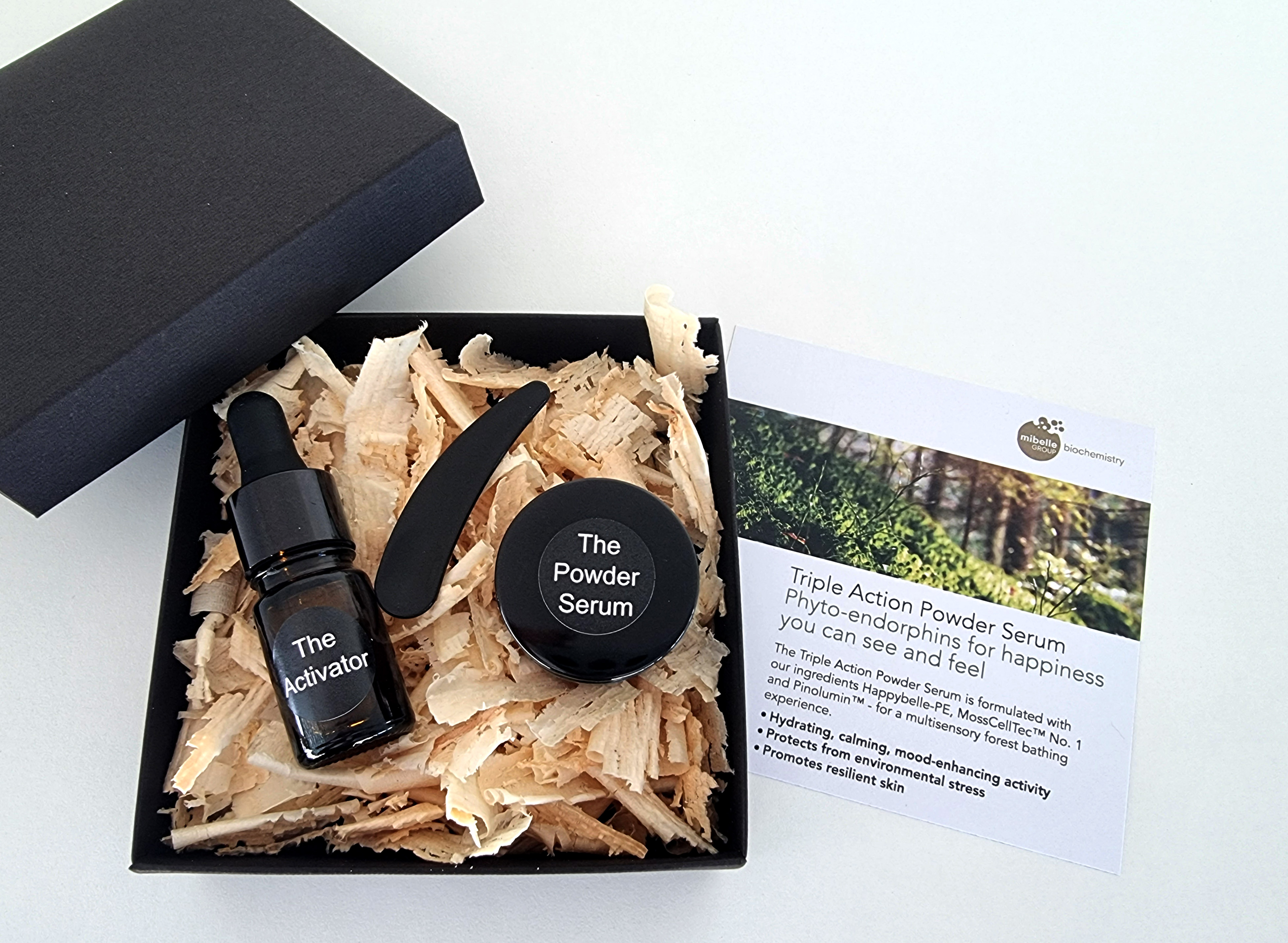 The Triple Action Powder Serum is our interpretation of clean beauty and meets a current trend as a solid cosmetic product.
If you have any questions about the guide formulation or the active ingredients, feel free to contact me (antje.duering@mibellegroup.com), I look forward to your email.
INCI of The Triple Action Powder Serum (Lot 969.D):
Isomalt, Lecithin, Vitex Agnus-Castus Extract, Glycerin, Ascorbyl Tetraisopalmitate, Tocopherol, Olus Oil, Vegetable Oil, Cyclodextrin, Phytol, Pinus Cembra Wood Extract, Maltodextrin, Microcrystalline Cellulose, Modified Corn Starch, Perfume
INCI of The Activator (Lot 969.A2):
Aqua, Pentylene Glycol, Xylitol, Caprylyl Glycol, Ketoglutaric Acid, Zinc lactate, Citric acid