SantEnergy™: For a denser beard
New study results show that SantEnergy™ has a stimulating effect on beard growth and beard density.
A well-groomed and dense beard is a nice attribute and statement for many men. However, being continuously exposed to the environment, hair follicles from facial hair, such as men's beards, also encounter stress. Different harmful factors, such as pollution or UV exposure, impact the quality and density of the facial hair, leading to a sparse beard. Studies have shown that external particulate matter (PM) can induce apoptosis in hair follicular keratinocytes (1). Also, UV irradiation can damage the hair follicles and limit the hair growth (2).  
One of the most harmful factors for hair follicles are reactive oxygen species (ROS), which cause oxidative stress. It has been shown that oxidative stress can alter the hair growth cycle, leading to a shortening of the anagen (growth) phase (3). Therefore, preventing oxidative stress and further energizing the hair follicles is a good strategy to protect the hair and promote its growth.  
SantEnergy™ is a powerful antioxidant natural extract from the Yerba Santa plant, which has shown to :
Energize hair follicles  
Protect hair follicles from oxidative stress  
Delay aging of hair follicles  
Increase hair growth and density.
In our newest study, we tested the effects of SantEnergy™ on stimulating beard growth and beard density. Male volunteers with non-bushy beards applied a beard serum containing 2 % SantEnergy™ once daily, for 3 months.   
Treating beards with SantEnergy™ had overall beneficial effects, leading to  
increased beard density by + 15%  
increased growth rate by + 18 %  
improved skin firmness by + 17%  
These positive effects highlight a further new application for SantEnergy™, namely in beard care products and beard growth serums.
Bild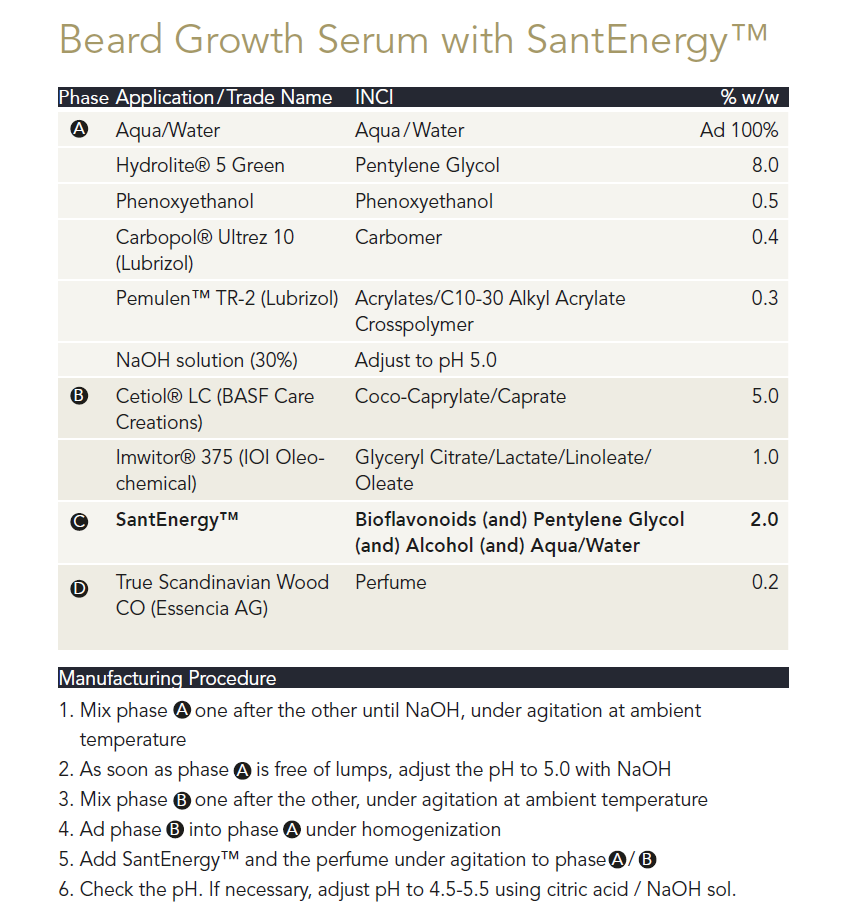 We are often asked if we can give out the formulation with which the active ingredient was tested in the in vivo study. In most studies, we use a simple base cream, but this of course cannot be optimally spread on a beard. 
The Beard Growth Serum now presented is a study formulation that was developed with the intention that it functions both as a study product but can also be used by our customers as a guide formulation at the same time. However, it does not correspond to a natural cosmetics label. The goal was to develop a sensory-responsive formulation without many ingredients and with a focus on the active ingredient SantEnergy™. 
The result is this formulation with only 10 raw ingredients, which may well run under the heading "Skinimalism for Men". 
The serum is based on a clear gel, which spreads easily when applied and leaves no residue on the beard. The emulsifier and the emollient from phase B provide the skin with plenty of moisture without being greasy. The emollient is especially popular for baby care and sensitive skin products. So just the right thing for stressed men's skin that wants to be pampered. 
This light formula makes it easy to get SantEnergy™ on the skin and spread it. The final and sensory highlight of the Beard Growth Serum is the perfume. The woody-fresh scent is reminiscent of a cool morning in the Scandinavian woods and provides an additional freshness kick.  
So, get inspired and have fun formulating! 
For specific study or formulation questions feel free to email us at Julia.baumann@mibellegroup.com or antje.duering@mibellegroup.com. 
References: 
Jun MS, Kwack MH, Kim MK, Kim JC, Sung YK. Particulate Matters Induce Apoptosis in Human Hair Follicular Keratinocytes. Ann Dermatol. 2020;32(5):388-94. 
Gherardini J, Wegner J, Cheret J, Ghatak S, Lehmann J, Alam M, et al. Transepidermal UV radiation of scalp skin ex vivo induces hair follicle damage that is alleviated by the topical treatment with caffeine. Int J Cosmet Sci. 2019;41(2):164-82. 
Trueb RM. Oxidative stress and its impact on skin, scalp and hair. Int J Cosmet Sci. 2021;43 Suppl 1:S9-S13.