Hair and urban stress: Does our hair suffer daily?
We frequently see our hair as a reflection of our identity because it is both personal and public. Hair is an object of intense elaboration and preoccupation in almost all societies. Hairstyles and rituals surrounding haircare and adornment deliver powerful messages about the beliefs, lifestyle, and commitments of a person.
As a result, our hair is regularly subjected to aggressors. Cosmetic practices such as combing, brushing, straightening, perming, dyeing, etc., as well as environmental factors such as exposure to UV light and polluted air can induce structural damage to the hair fibre and to the outermost protective layer of the hair (the so called F-layer). As a result, the cuticle upraises and becomes porous, exposing the cortex to further damage. A decrease in hair shine, colour and strength is observed, which ultimately leads to hair damage.
How does pollution affect our hair?
The consequences of rising pollution levels are also significantly impacting both the short-term and long-term health of our hair. Air pollution is directly in contact with our hair and contributes to hair damage on a daily basis. The main sources of pollution are industrial combustion (diesel exhaust, fumes and coal), traffic and construction works. Air pollution consists of gases and very fine particles, which are called particulate matter (PM). In combination with exposure to UV light, PM causes oxidisation reactions within the hair protein, which lead to the hair becoming damaged and more fragile.
At Mibelle Biochemistry we have developed KeraGuard to help our hair to cope with our routine and today's life style. KeraGuard is a natural ingredient that combines tara tannins derived from Caesalpinia spinosas pods and organic sunflower sprout extract. Tannins are phenolic compounds which easily bind to the keratin proteins of the hair.
Bild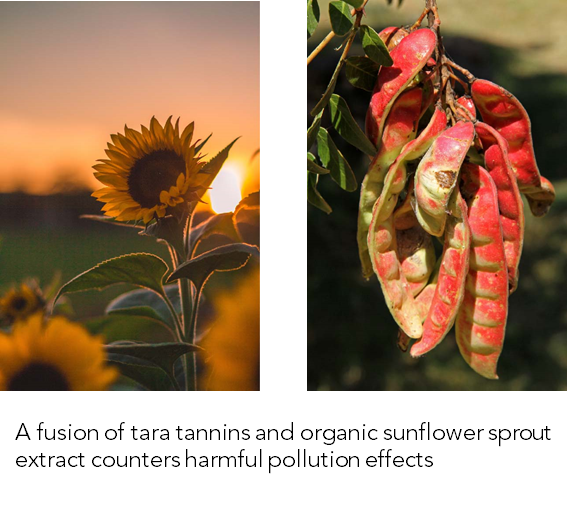 It offers pollution protection and was also shown to repair bleach damaged hair and protect hair from colour fading. Pointedly, it performs effectively in leave-on and rinse-off formulations. KeraGuard leads to less particulate matter deposition and hair surface damage and therefore is a perfect protection shield against daily pollution.