The impact of digitalization on beauty
Welcome to the Digital World of Beauty! 
Once upon a time, you might remember walking through a department store, trying on make up and perfume at the counters, with the help of a salesperson. It seems for some people though, that those times are far behind us.
As the need for digitalization has affected major business sectors, the beauty industry is not far behind.  We are learning about new products and trends much quicker than that from a typical TV ad or magazine, nowadays.
Pre-Covid-19, the use of social media platforms were thought to cause social isolation.  However, the current situation of confinement to our homes and social distancing, has definitely encouraged customers and brands to rely more on the internet.  Coronavirus or not, the last 10 years in this beauty digitalization has impacted the way we learn and shop for products.
It has really allowed for the emergence of new brands to come at a lightning speed.  E-commerce sites are much easier to set up than your typical lab setting. Working with a contract lab, producing smaller runs, also encourages the idea of individualization and possibility of customization. 

We also know that the social media platform is bigger than ever, especially with the likes of Instagram and TikTok, some of the newest members of the digital community.  During this pandemic, brands have started to use these platforms to really connect with the consumers for longer engagement on their sites, etc.  Below is data showing the mention of IGTV within beauty on IG and Twitter between March-April in the US and Globally.
Bild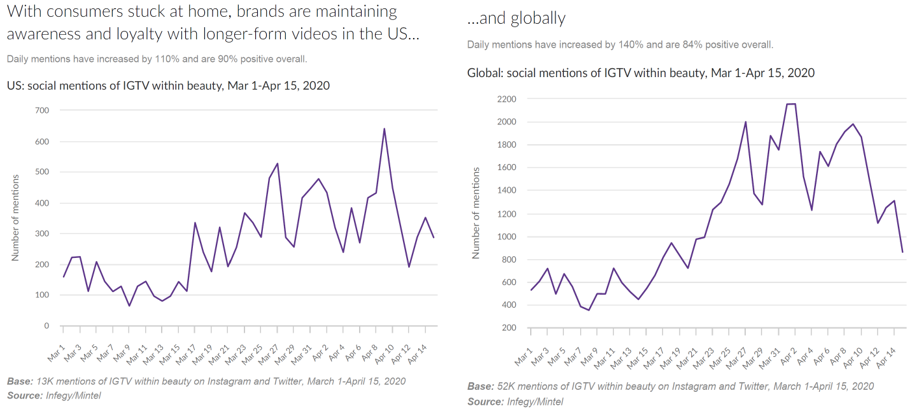 Beauty brands like ColorPop created a "how to" video to show consumers how to clean their make up brushes for example on IGTV.  Bobbi Brown has also offered daily lessons for their makeup artists, with a live audience.
Other brands are using TikTok for a more "fun" experience to encourage buying, such as Ole Henrikson, which joined in the #distancedance challenge to raise their brand awareness
These platforms are allowing consumers to connect directly to view videos or chat live with the experts. Consultations can also made virtually, so you do not need to leave the comfort of your home anymore. The graph below shows the mentions of virtual consultations on IG/Twitter just between March and April of this year. Daily mentions increased 249%, of which 92% were positive.
Bild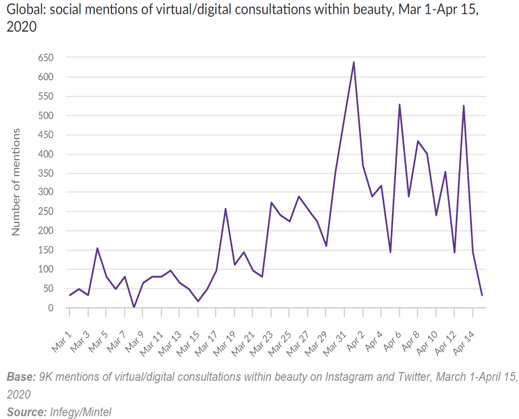 With the help of Artificial Intelligence (AI), many brands are already providing solutions to consumers, without having to step into a store. Some companies have developed programs to allow matching of makeup to your skin types right through their app on your smartphone, by providing a simple selfie.
Naturopathica is one of, if not first, brand to launch an at-home virtual facial. After consultation/fee, the consumer purchases the recommended products, which arrive at their home, and schedule time with an aesthetician, to guide them through the procedure.
The time is now!  Tech savvy companies are also using this time to develop new ideas that will be needed in the market.
You might soon have the ability to find hair care recommendations provided by an AI hair analysis tool, which should be able to determine hair type/length/texture.
There has been a rise in the environmental movement in recent years as well, which has linked itself to the need and want for cleaner ingredients. With the emergence of many new organizations, which claim to be experts in chemicals, there tends to be much more misunderstanding about which ingredients are considered clean or not.  That of course, is a whole other debate!
However, with everything at our fingertips, consumers can easily get information on their favorite beauty products.  They are able to use EWG or the THINKDIRTYapp, one of the more recent additions, just to name a few.  With their extensive databases, consumers are able to make choices very quickly, even from their smartphones, simply by scanning the barcode, or searching for the product directly.
Although we are starting to see the light at the end of the tunnel, with the slow opening of retail, and other public spaces, we are reminded how delicate it can be to take a walk outside.  This pandemic has definitely changed the face of digitalization in the beauty world, and has moved it forward, quicker than we could've imagined.  Nonetheless, I have realized that no matter what changes come our way, we can count on the internet to bring every aspect of beauty into our homes, sooner, rather than later!