Learning with McCell - part 4: Determination of sugar content with the phenol-sulfuric acid-method
Ready for a new lesson with McCell? Today he will tell us about the determination of total sugar and how this process is used in the labs of Mibelle Biochemistry.
Definition / Explanation:
Using the "total sugar method", we determine the entire amount of carbohydrates in a sample.We measure different types of sugar such as fructose, glucose and refined sugar in the sample, when it has reacted with sulfuric acid and the phenol-solution.
Scope of application:
We use this method to determine the consumption of the nutrient medium in our PhytoCellTec™ products. The plant cells are growing in house in different, specific and complex nutrient media. The compositions of these are different and include among others various types of sugar.
When the cells have finished growing and used up almost all the nutrients, we harvest the cells and process them into a product. To determine the right time-point for harvesting, we measure the sugar content.
In addition, we use this method for the training of the apprentices. The trainees then determine the sugar in various foods, such as bananas, onions or ice tea.
Bild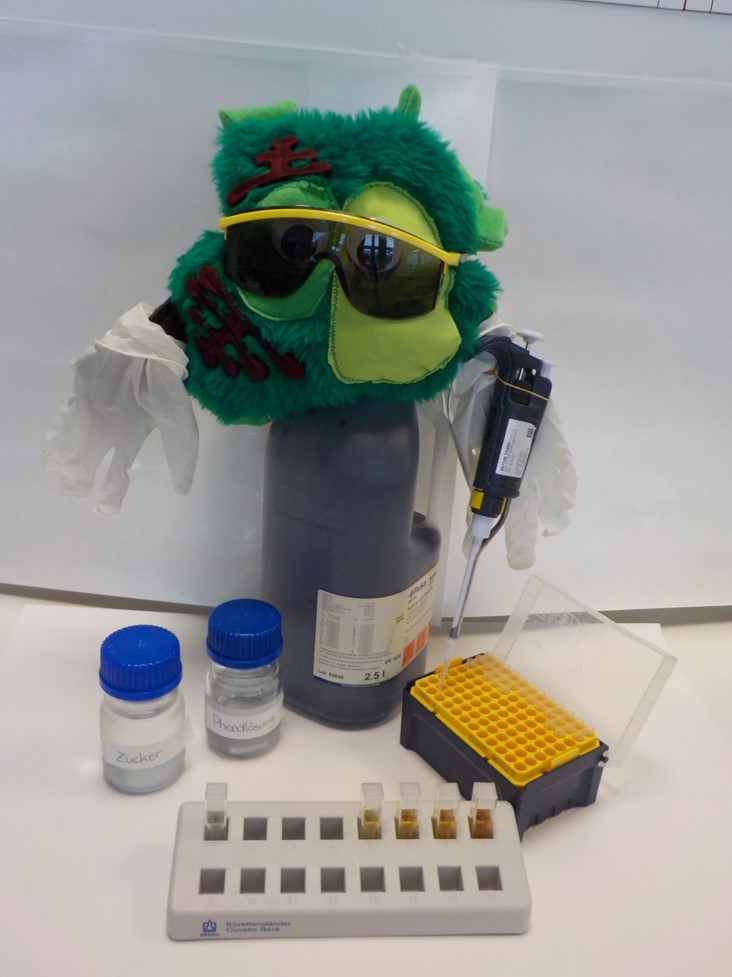 Mode of operation:
The sample is mixed with sulfuric acid and a phenol solution. The sulfuric acid breaks down all the contained carbohydrates in the sample into their smallest form, the monosaccharides. These monosaccharides react with the phenol to yield a colored solution. This color complex is then detected by photometrical measurement. If we compare this obtained value with our standards, we can calculate the total amount of sugar in the samples.