Markus Schulte
In our new blog series, we regularly introduce you to one member of our sales team. Markus Schulte, Senior International Sales Manager, has the honour to be the first one!
My name is Markus Schulte, born June 1967 and happily married with Daniela for 25 years. We have two kids, Laura and Janik and since 3.5 years a small dog Nia. We all love travelling and to explore the world. Somehow this must be related to my job, as I always had jobs involving lots of travelling. 
I joined Mibelle Biochemistry late 2011 as Senior International Sales Manager. Before, I was working at DSM and Pentapharm since 1999. This adds up to more than 20 years of experience in the cosmetic business now! For my job, I visit many countries in Europe (almost all except France, Italy, Germany, Austria Spain and Portugal and Finland). Additionally, I'm taking care for the Middle East region including India. My colleagues would say, I'm responsible for all the countries which nobody wants to take care of :)
Nevertheless, I'm very happy managing these countries and to growing the business there. Sometimes, combining family, work and travelling can be a challenge. But what I like most is that each of my business trips allows me to learn more about the countries, cultures, and people. Very often we become friends. After such a long time in the cosmetic business it's nice to be known in the markets
Bild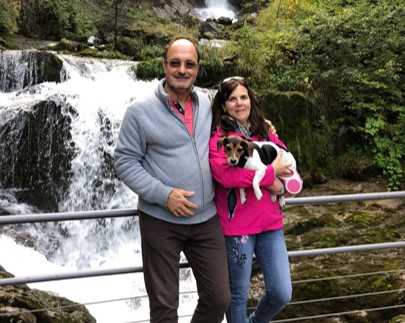 As most of you might know, I'm the chocolate man. I always carry chocolate with me! Mostly to thank our customers for their time and loyalty. In these days, it's difficult to get a time slot with the customer, as the competition is growing and they also have good products too. I never met a customer so far who did not like Swiss chocolate :)
So out of all the great products we have, which are my favorites? You know we are famous for the Plant Stem Cells, PhytoCellTec™ , which gave us a real boost in the business. Consequently, this product range belongs to my favorites. Its newest member, PhytoCellTec™ Goji, is my favorite in this product range.
Another favourite is AquaCacteen, an active based on a cactus, truly multifunctional and is tested for both leave-on and rinse-off. It can have a very good soothing/calming activity as well as a very good moisturizing effect, even in rinse off formulations.
Another one is DermCom, based on crocus. This was the first active to claim cell-to-cell communication. We could demonstrate very nice effects on the collagen and elastin production in the skin in-vivo, also unique at that time.
I'm very happy to work for Mibelle Biochemistry as we have a very strong team, we are innovative, flexible and the atmosphere is more familiar as in multi-national companies.
If you have any questions about me, please feel free to contact me!
Markus Schulte