Two innovation prizes at in-cosmetics Global 2019
Mibelle Biochemistry was awarded two innovation prizes at the in-cosmetics Global show in Paris: Gold for Black BeeOme™ and Bronze for PhytoCellTec™ Goji.
This year again, Mibelle Biochemistry was honored at In-cosmetics Global in Paris for two newly launched, innovative active ingredients. In two categories, our team convinced the jury with new visionary concepts. The skillful combination of attractive sources with interesting biochemical concepts and the support of these with well-founded in-vivo and in-vitro studies was able to convince.
Category "Natural products: ingredients"
1. Prize for Black BeeOme™
In this product, trends such as bee beauty and skin microbiome found an interesting implementation in the honey ferment of a rare black bee, which lives in Swiss mountain regions and is sustainably kept by small beekeepers. The active ingredient supports the balance of the skin's own microflora after washing and gives oily and sensitive skin a more even complexion again and threngthens it's barrier.
See also Black BeeOme™.
Category "Cosmetic actives and naturals - anti-ageing"
3. Prize for PhytoCellTec™ Goji
PhytoCellTec™ Goji is a new plant stem cell active with V-shaping effect in the face. Since the launch of PhytoCellTec™ Malus Domestica eleven years ago, Mibelle has continued to follow its concept that the product must show a positive, vitalising effect in efficacy tests with human stem cells, in this case mesenchymal stem cells. The clinical studies also showed an increase in collagen and elastin, which is associated with a decrease in wrinkle depth and a clear contouring effect on the face.
See also PhytoCellTec™ Goji.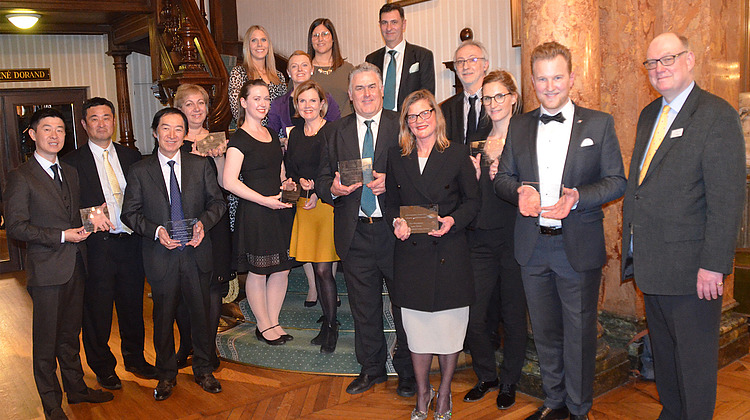 The BSB Innovation Award, was established by Dr Jan-H. Riedel, the founder of BSB, in 2003. The award which is supported by the industry aims to inform about the latest innovations on a global level. The Award ceremony takes place every year during in-cosmetics.
See article in COSSMA.
Photo: Angelika Meiss.