CALMandrin™
CALMandrin™ is our sustainable solution for combatting inflammaging by notably improving the signs of aging, as well as soothing reddened and inflamed skin. In addition to its calming effect on irritated skin, it also markedly increases the firmness and density of the skin.
CALMandrin™ is sustainably obtained by upcycling the peel paste from unique organic Chios mandarins. It is COSMOS approved and NATRUE approved.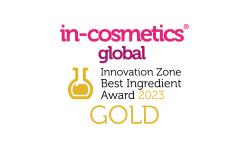 Mandarins are nowadays cultivated in all continents. Conversely, the variety "Chios mandarin" grows exclusively under very specific conditions that are optimally found on the island of Chios where mandarins were introduced in the 13th century following the Genoese colonization. The island of Chios, which is also known for the mastic tree, has calcium-rich soil that is based on limestone. The stable temperatures and the Meltemi winds give a mild microclimate that protects the fruits from frost during the winter months.
Find out more about the origin of CALMandrin™ here or watch our movie of the mandarin harvest.
Bild
In vitro
Reduction of inflammatory gene expression in keratinocytes
Reduction of inflammation reaction induced by inflammatory keratinocyte secretion
Reduction of protein carbonylation induced by inflammation in keratinocytes
Increase in procollagen I secretion in keratinocytes
Production of newly formed collagen in skin explants
In vivo
Reduction of skin redness
Improvement of skin elasticity
Improvement of skin firmness
Improvement of skin density
PDF Downloads
Upcycled chios mandarins to combat inflammaging_incosmetics asia catalogue 2022
Upcycled chios mandarins to combat inflammaging_in-cosmetics preview 2023
Bild
Order a sample of CALMandrin™
Please fill in the form below to get a sample of the ingredient