Development of an axenic Algae production
Learn more about the large scale algae production at Mibelle Biochemistry.
Algal large-scale cultivation is a growing research area with many international research groups involved. The focus is on biomass production for biofuel by utilizing photosynthetic organisms. As the production costs must compete with petrol-based fuel, huge ponds such as raceway ponds are needed for the production.
The critical growth limiting factor is the sunlight the algae need. To capture enough sunlight, the ponds need to have a large surface. Also fresh water is needed to compensate for evaporation - thus, this technology takes up a lot of land and water.
Bild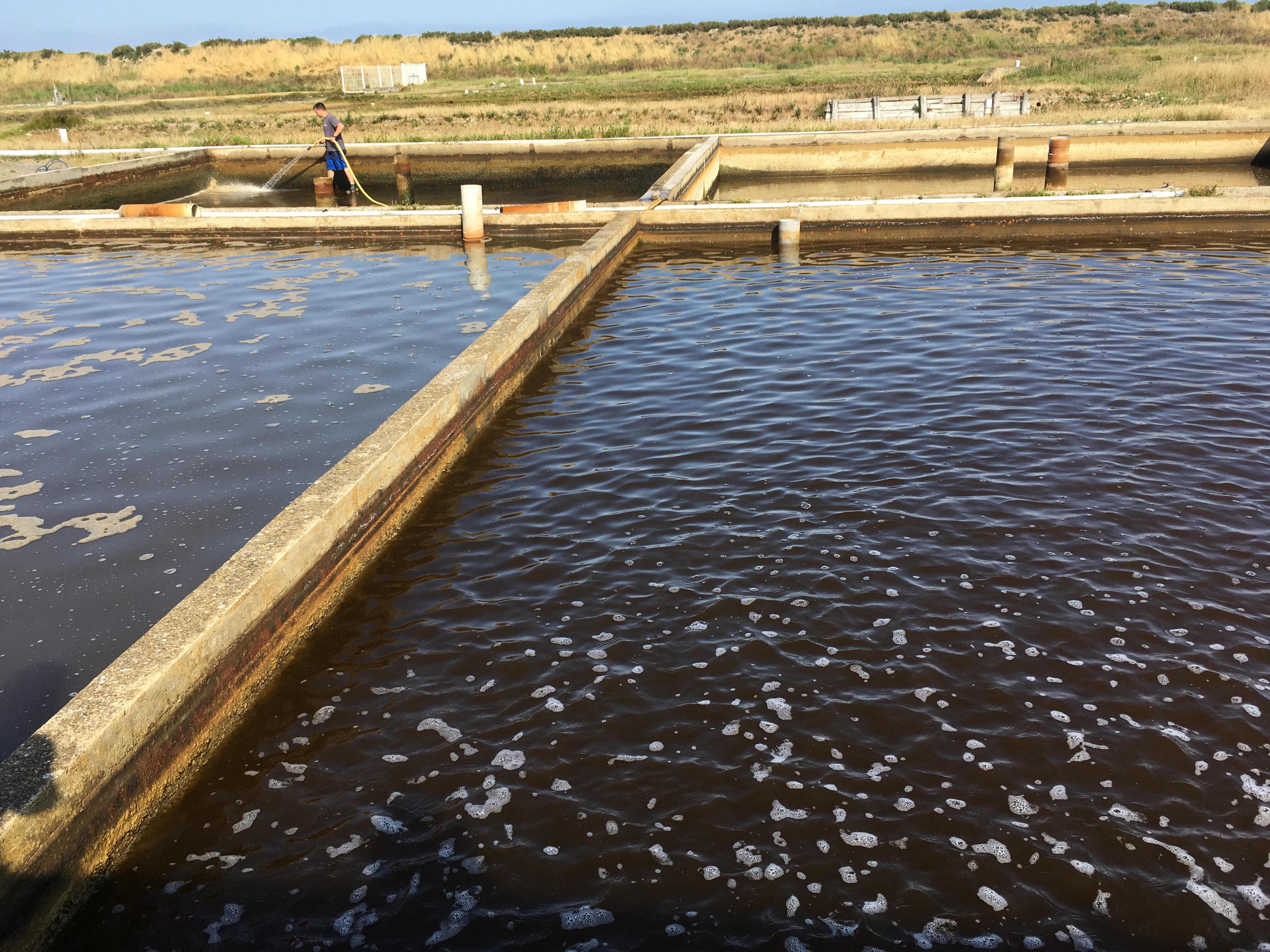 For more valuable products like the antioxidant astaxanthin (used mainly in food supplements), glass tube photobioreactors are used to enlarge the surface and thereby collect more sunlight. Another technology is the flat panel airlift bioreactor (FPA) from Subitec GmbH, where better mixing and a huge surface shall optimize sunlight collection. As sunlight alternatives, LED-Panels could be used. 
All these technologies operate under non-axenic conditions, meaning the algae are growing together with other organisms like bacteria, yeasts, fungus and other algae species. Sterilization with heat or chemicals is not feasible at this scale and set-up, so other means are used to keep contaminations as low as possible. If this raw material is used for cosmetics, expensive down-stream processing is needed to purify it.
On the other hand, working with axenic algae cultures is very difficult. To obtain an axenic algae strain is a tidious and time-consuming process, as the algae needs to be isolated out of its multi organism natural habitat. Furthermore, the production is still limited to lab scale as the technology required is not yet available. In lab scale autoclavable photo bioreactors up to 6 L are used.
At Mibelle Biochemistry, our mission is to provide outstanding quality products to our customers without any contaminations. Previously no large-scale axenic production process was available on the market. Together with Subitec GmbH we developed a new production system to overcome this drawback.
For the in-house production of the carotenoid-rich snow algae Coenochloris signiensis, Subitec GmbH developed a specially designed Flat Panel Airlift (FPA) using a two-phase process. X-ray sterilization of single use bioreactors is a standard process to avoid any viable microorganism also used for medical equipment. To be able to X-ray the FPA, the used material for the bioreactors had to be changed to an X-ray stable PET variant. Afterwards the FPA can be inoculated with an axenic culture of Coenochloris signiensis. Today we can proudly claim to be the first company ever able to produce algae biomass under axenic conditions in large scale.
Bild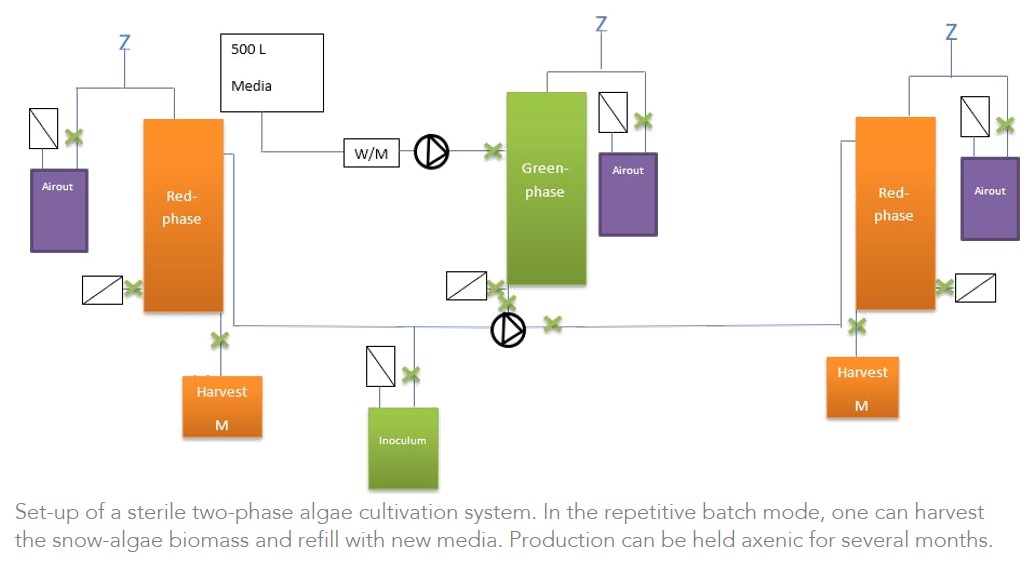 Bild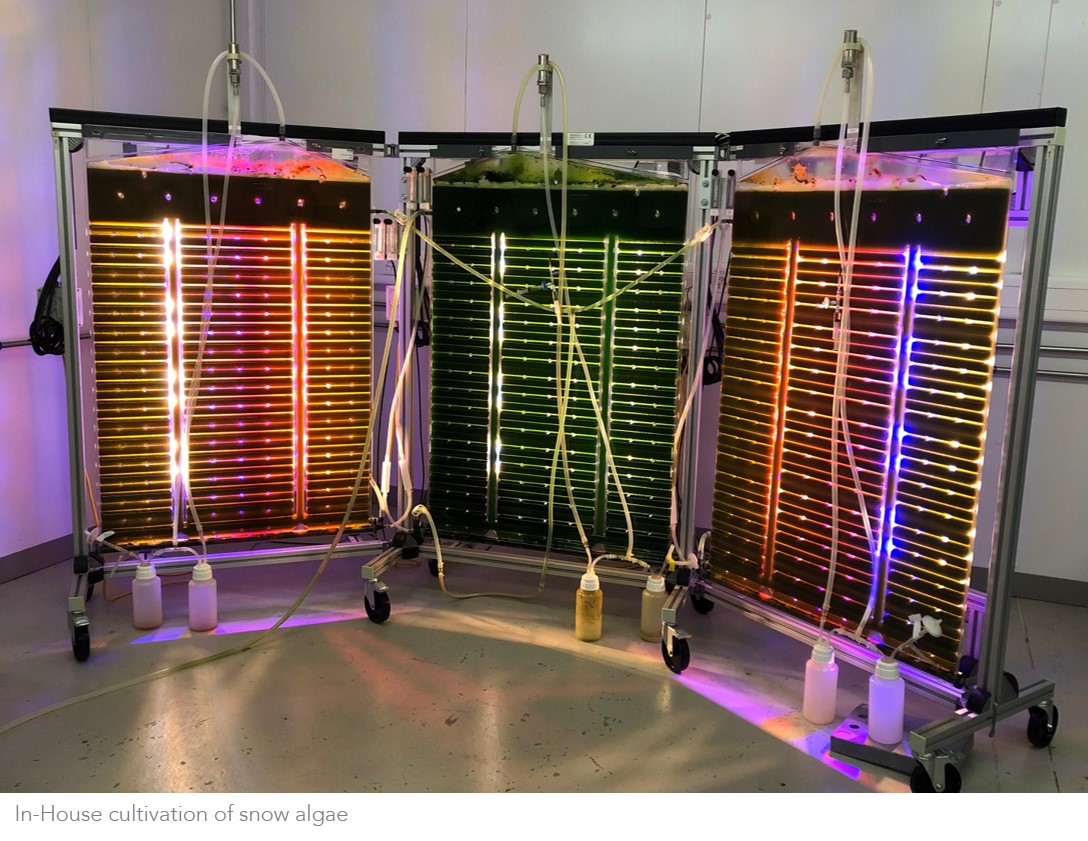 Set-up of a sterile two-phase algae cultivation system. In the repetitive batch mode, one can harvest the snow-algae biomass and refill with new media. Production can be held axenic for several months.
The axenic and single-use processing in closed FPA-systems combined with novel sensor technology led to a new highly valuable biotechnological product. The anti-aging cosmetic ingredient "Snow Algae Powder" was successfully introduced to the market in 2014.