Formulating: Solid Moisturizing Emulsion Balm
How to formulate the Solid Moisturizing Emulsion Balm with SLVR'Coffee™, an Upcycling Beauty Product
Upcycling Ingredients, No-Waste-Beauty, Sustanability & Co: Not only can we do something good for ourselves, but we can also protect the environment. A large number of raw materials and active ingredients are already "as green" as possible and as a result there is a multitude of cosmetic finished products with all kinds of labels, which by upcycling can "upgrade" our beauty routine.
With SLVR'Cofffee™, after GSP-T, Pinolumin™ and the award-winning MelanoGray™, we have brought another upcycling active ingredient onto the market, which is not only in line with this trend, but also has biomimetic properties and thus perfectly protects our skin.
For cosmetics developers, however, the most exciting thing is what they can do with our new upcycling active ingredient.
The INCI reveals that it is an oil-active ingredient: Coffea Arabica Seed Extract (and) Butyrospermum parkii butter (and) Tocopherol.
This makes it suitable for emulsions, oil-based gels, serums and of course waterfree and waterless formulations such as sticks and bars. In the lab I have developed a Solid Moisturizing Emulsion Balm, which consists of many natural and upcycled raw materials. As always, the formulation is only an inspiration and can be expanded and changed as desired.
Here are a few tips:
When processing SLVR'Coffee™, you must bear in mind that it is a solid-oil-active. This means that to process it, you should melt it gently beforehand or add it to the warm oil phase. In general, shea butter melts at max. 38°C. This makes it possible to produce the final product in an energy-saving way. However, for the "Solid Moisturizing Emulsion Balm" I used different waxes and butters that have a higher melting point to achieve a solid consistency of the finished product.

Furthermore, SLVR'Coffee™ is compatible with a wide range of emulsifiers and the desired cosmetic end products can also have a broad pH range. So as a developer, you can really go to town.
And now to ask the fundamental question: "What can't you make with SLVR'Coffee™?"
The answer: water-clear formulations without an oil phase are a big challenge. The final product can get a milky haze if you use an emulsifier or solubiliser. But maybe there is a suitable raw material for this challenge, too, with which one can develop such a product. I am happy to be surprised and always like to test new raw materials for our customers.
Of course, we also provide you with the formulation for the "Solid Moisturizing Emulsion Balm", see below.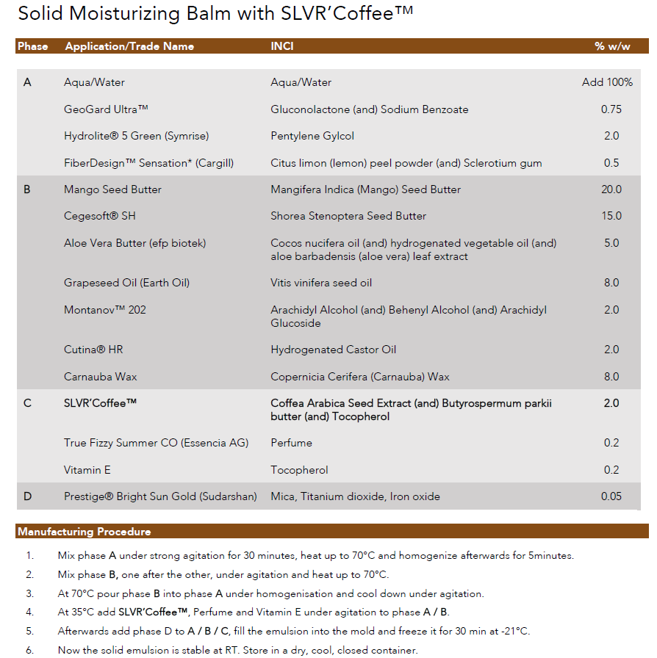 For further questions, please have a look at the Formulation Guideline of SLVR'Coffee™ or send me an email (antje.duering@mibellegroup.com).
Have fun developing!