Celebrity Beauty
It is a very well-known fact that "celebrity" branding sells products. We have seen the likes of movie stars, musicians, athletes, etc. endorse many types of products: cosmetics, clothing, jewelry, and everything in between.
Celebrities always need to be camera-ready, so keeping their skin looking amazing is a must. If you've ever noticed, one of the first questions they get asked is how they keep their skin looking flawless. Celebrities have access to the best doctors, dermatologists, and are able to spend any amount of money on products for maintaining their skin.
So why are we suddenly seeing so many A-listers launching skin care brands? I am sure they all have a few secrets on maintaining skin health.  And it also comes down to the Covid-19 surge, which started in 2020. Since there was a complete stop in production and filming, it lead to a decrease in movie premieres and endorsements, therefore celebrities needed a way to get back in front of the camera.
The logical choice would be for a celebrity to launch makeup. However, during the pandemic, consumers have made lifestyle changes, which include taking better care of their skin. The NPD group, a market research firm, found that make up sales had declined by 36% in the latter part of 2020, which was a first compared to previous years.  
When there is a profit to be made, celebrities are usually not far behind.  In the skincare market, the margins are high, and the obstacles low.  There is a such an ease of access to: ingredients, concepts, packaging, and manufacturing.  Marketing is pretty straightforward, as they can bring their social media following over quickly. Celebrities can also choose how involved, or not, they want to be in the process of development.
Goop, founded by Gwyneth Paltrow in 2008, and The Honest Company, founded by Jessica Alba in 2011, are said to be the pioneers in celebrity-backed skincare companies that have started from the ground up. Starting the company from scratch poses the highest risk for the celebrity, but can be the most rewarding also, giving yield to high margins. 
Jennifer Lopez has followed in these footsteps, launching her own brand. JLo Beauty focuses on aging caused by inflammation, also known as "Inflamm'Aging". The product line consists of approximately 8 products, which also addresses plumpness, tightness, and luminosity, through a serum, cleanser, night cream, SPF, and more.
Kylie Jenner followed up her makeup line with Kylie Skin. And big sister Kim Kardashian also jumped on the bandwagon with SKKN by Kim. There are also rumors that "mom-ager" Kris Jenner has a skincare line in the works.
One of the most recent skincare brands to launch was that of Hailey Bieber. Rhode launched in mid-2022, and Hailey got inspiration from fellow star friends, such as the Kardashians, as well as enrolled in a Dermatology course to learn about the skin. Her main focus is hydration, and you can find 3 products on the market currently: peptide serum, barrier restoring cream, and peptide treatment for lips. She had input from dermatologists and cosmetic chemists to perfect her formulas.
Rihanna has worked with some major makeup brands such as MAC Cosmetics prior to launching her own solo brand Fenty Beauty in 2017. She chose a hybrid licensing deal, working with a global beauty leader, LVMH, where she reportedly owns about 15%. After the huge success of Fenty Beauty, she launched Fenty Skin in July 2020, which includes: cleanser, toner serum, and SPF Moisturizer. The brand focuses on clean, vegan, gluten-free, and deemed gender-neutral.
Bild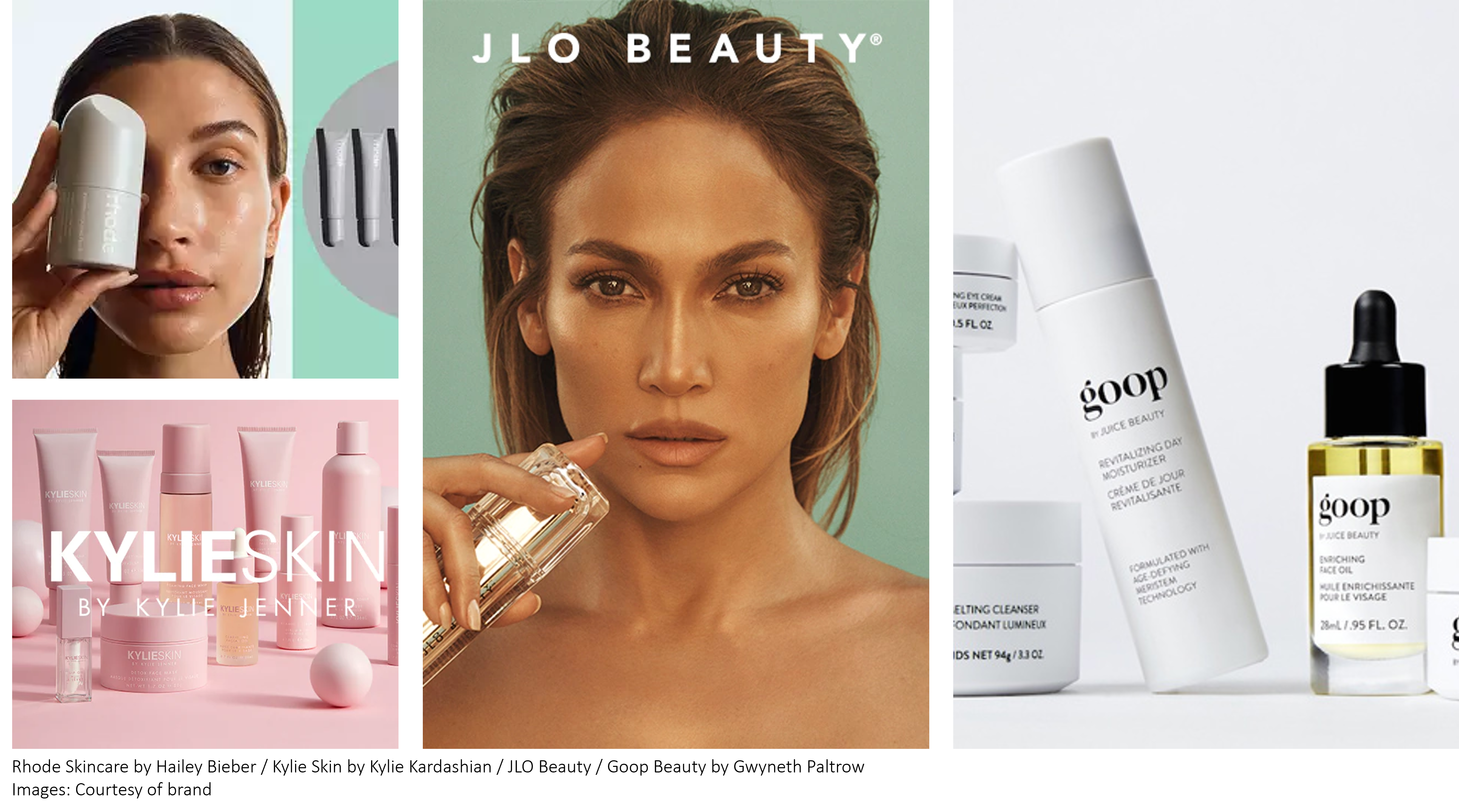 Unlike makeup, skincare is invisible. Consumers really have to believe that the celebrities developing these products, are also using their own products. Celebrities have access to specialized treatments and skincare routines that the average consumer doesn't.  So die-hard fans will probably follow through and purchase the products, knowing it may not be the ONLY products the celebrity uses. But it may not be the case for everyone. 
Maintaining a decent price point helps consumers decide whether to try/buy, especially when they are readily available at stores that you shop at on a day-to-day basis.
Consumers aside, the biggest sign of success for celebrities…being swooped up by some of the largest players on the market such as Estee Lauder, L'Oréal, LVMH, to name a few.